You CAN Get Final Expense Insurance After A Metastatic Cancer Diagnosis [2023]
Many people are not aware that after a metastatic cancer diagnosis, you can purchase final expense insurance. We'll go into more detail about the subject in this blog post and explain why it's so crucial for older customers to be aware of their options.
We'll also go through the features and advantages of this kind of insurance.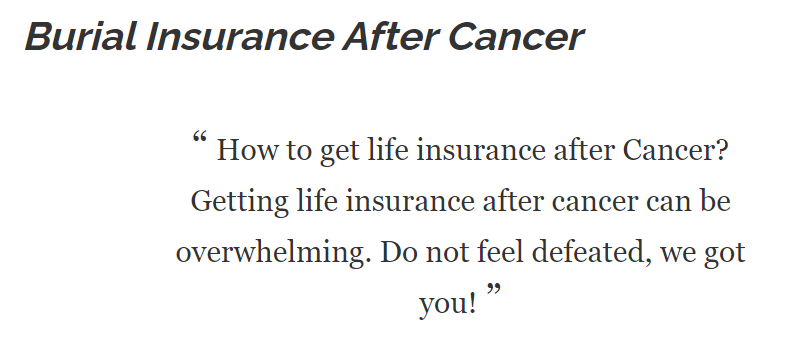 After cancer, how do I obtain life insurance? The majority of people have a 37–40% probability of developing cancer of some kind. Some can be treated quickly and simply, while others are quite aggressive and challenging to overcome.
Many increase the possibility of long-term health problems. With a cancer diagnosis, life insurance might be confusing. A cancer diagnosis is a pre-existing medical problem, as you are aware. It is the reason that so many people who receive a cancer diagnosis complete their estate planning, which includes purchasing burial insurance.
It's also the reason why young individuals are coming to realise how important it is to set up final expense insurance while they are still young and in good health.
---
Burial Insurance For Cancer Patients
Burial insurance is a very prudent investment when it's included in a larger collection of life plans. Why? several factors
It takes away the stress of trying to finance a funeral and dealing with the costs for years later on behalf of your family or loved ones.
It is available from some of the top insurance companies.
It may provide recipients with a premium refund.
It might offer coverage with no waiting period.
Even with chronic or high-risk health conditions, such as metastatic cancer, it might be accessible.
Because of the unpredictability of metastatic disease, not all carriers offer this particular sort of funeral insurance.
Let's take a quick look at it before talking about how to get coverage if you or a loved one has received a diagnosis of a form of metastatic cancer.
---
Getting Insurance After Cancer Diagnosis
Understanding The Challenges Of Metastatic Cancer
After a diagnosis, are cancer sufferers eligible for insurance? Cancer that has spread to a region where it has not previously occurred is called metastatic cancer and is not a specific type of cancer.
Normally, cancer cells move from their point of origin to an entirely different area through a person's bloodstream or lymph nodes.
---
Life Insurance With Pre-existing Cancer
Can someone with a pre-existing condition purchase life insurance? There are numerous terminology that are related with it.
A person might learn, for instance, that they have a distant metastasis or secondary tumour. The fundamental implication, however, is clear: the cancer cells have transferred to another area of the body.
Unfortunately, many cancer forms are still hard to identify, and symptoms frequently only appear after the cells have spread.
Despite so, the cause of some cancers is still unknown. Treatment will start right away after a cancer diagnosis, with the aim of reducing or preventing the disease's progression.
The majority of the time, the kind, location, and size of the metastatic cancer define how the treatment is carried out.

Final Expense Insurance For Metastatic Cancer
After lawsuits, is life insurance still available? You will frequently be presented with a guaranteed insurance plan that has a 24-month waiting period. for the following reasons:
Usually, it's a methodical process that involves drugs, chemotherapy, radiation, and sometimes even surgery. When the cancer is no longer sensitive to treatment, it frequently involves many treatments.
There are still measures available, like palliative care, to lessen symptoms and get rid of cancer-related and treatment-related side effects.
The majority of patients receive a personalised treatment plan based on their unique problems and requirements. The focus is always on comfort and quality of life, and each person's prognosis is very variable depending on a wide range of variables.
Although though a metastatic cancer diagnosis is never welcome, there are many things that may be done to address the problems.
Also, while receiving treatment, is the ideal moment to organise crucial insurances that can shield your family or loved ones from unaffordable costs in the future.


Burial Insurance For High-Risk Health Issues
It appears that managing cancer therapy will take a lot of time. The quality of treatment provided by cancer specialists, however, often comes as a surprise to patients.
Despite being diagnosed with many cancers, they may have few side symptoms, have treatments a few times per week, and feel generally good.
Some people are left with plenty of free time to organise everything, including finding burial insurance or final expense insurance.
They are identical and exist to save your family the trouble of locating the funds required for the extensive list of expenses associated with the majority of funerals.
---

Can You Get Burial Insurance If You Have Cancer
After all, according to specialists, the average funeral costs more than $7,000, making a budget of around $10,000 considerably more prudent. This can include all costs related to these procedures, including cremation and burial.

The trick, as one can guess, is to find a provider. The good news is that some of the most recognized names in insurance welcome people with high-risk health issues.
Burial Insurance For Metastatic Cancer
Does the majority of life insurance cover cancer?
They provide funeral insurance policies, and in order to grant coverage, they won't demand a medical checkup. Beginning coverage frequently the same day as an application is submitted.
---
Guaranteed Life Insurance For Cancer
These are referred to as life insurance plans with guaranteed acceptance and a 24-month waiting period.
They are not outrageously expensive, despite being slightly more expensive than coverage for people without high-risk or chronic health conditions. After all, they are frequently intended for those over 50. Seniors with limited funds frequently make purchases.
What is the first step? It is advisable to engage with a company that can provide you with quotations from all of the top providers of funeral insurance.
Nobody wants to spend days filling out applications or asking for quotations just to receive a barrage of calls or emails asking for additional time or details.

---
Can Cancer Patients Get Burial Insurance
For this reason, so many people will consult websites like BestBurialPolicy.com. They enable shoppers to compare quotations with little information required and provide immediate quotes.
The time is now to learn more about guaranteed burial insurance coverage if you or a loved one has been told they have metastatic cancer and you are worried about final expenses.
Removing concerns about how to pay for a funeral is a wonderful present to give those you love, and it is the ideal moment to learn more about your options because starting coverage is so simple.
---
Can You Get Life Insurance On Someone Who Is Dying
The quick response Yes. Yet, in order to implement a policy, your loved one must be informed and provide permission.
Additionally, individuals would only be eligible for a guaranteed issue policy if they were currently living with a cancer diagnosis.
CLICK HERE to learn more about metastatic cancer.

Conclusion
There is a lot of misinformation out there about how you can get life insurance after cancer. Some people say that it's impossible, while others have been able to purchase coverage with the help of an agent or broker who understands their situation. The truth? You CAN get final expense insurance after a metastatic cancer diagnosis – and we would be happy to tell you more! Get in touch today for your free quote on low cost life insurance policies designed just for those living with cancer.