The Truth About 2023 State Regulated Life Insurance Program
You've probably seen or heard of the state-mandated life insurance scheme, or the state-mandated life insurance programme to cover funeral costs, but is it legitimate?
States have varied laws regarding burial life insurance. Depending on the type of coverage you desire and where you live, the price will change.
You can get burial insurance through one of our insurance agents, a funeral home, or an internet provider; but, not all states permit customers to do so.
Policies for burial life insurance are frequently extremely reasonable and a wonderful method for your loved ones to lay you to rest quietly.
You must be aware of the type of coverage you require when purchasing burial life insurance so that your loved ones won't be surprised once they have officially declared you dead.
If this sounds like something that would interest or worry you, get in touch with us right now!
What Is State Regulated Life Insurance?
All different types of insurance policies are sold in your state by state-regulated life insurance companies.
Life insurance businesses must receive a licence from your state's insurance department in order to sell any of these products in your state.
There is nothing remarkable about a life insurance policy that is governed by the state. To get a licence, the insurance provider must provide financial data regarding both their business and product.
The department will issue the licence once they have satisfied all conditions. All insurance firms are subject to state regulation.
Is The State Sponsoring These Plans?
At the bottom of the card is a disclaimer that reads, "Not linked with or supported by any government agency."
The only source of funding for funeral costs is Social Security (if you qualify). Funerals are not covered by state benefits.
You don't have time to consider whether this is a scam before providing your personal information while using this lead creation approach.
You must complete the card with your name, residence, age, phone number, and spouse's name and age in order for us to quickly obtain your personal information.
When you submit your information to this state-required life insurance offer, you'll start getting a lot of phone calls and postal solicitations from insurance brokers who are vying for your business.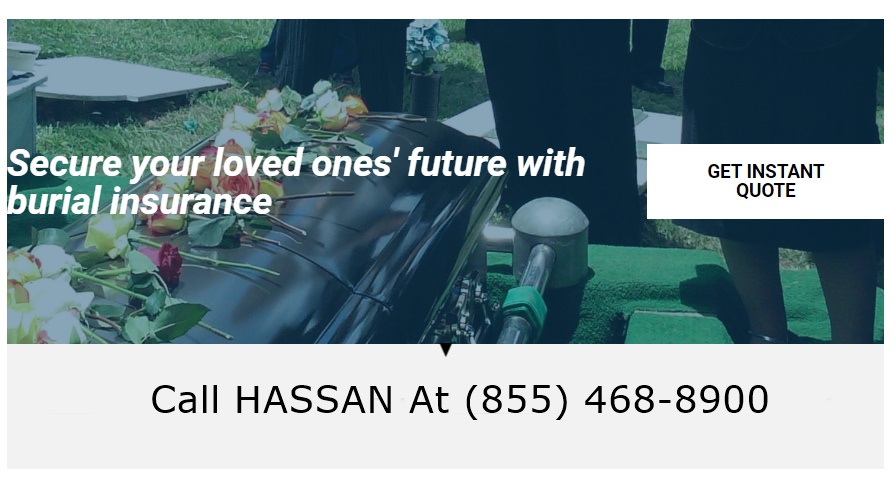 Will Moving To A Different State Affect My Burial Insurance Policy
Of course, no matter where you live, you can get life insurance. There are several laws that govern how your state handles your death.
Your final expense insurance, burial insurance, and pre-need burial arrangements are affected by these rules and regulations.
This effect results from the fact that the regulations governing burial or funeral insurance coverage vary depending on the state. That is to say, how each state handles persons after they pass away varies.
California, for instance, is one of several states having stringent burial and funeral legislation.
In fact, it is illegal in California to bury human remains anyplace other than a cemetery, and you risk being prosecuted with a misdemeanour, being jailed, or paying a fine of up to $10,000.
Similar to this, regardless of where the deceased is interred, certain states value the funeral director's involvement in the burial procedure.
You might find it unusual to hear this, but the funeral director's involvement or mere presence has an impact on both the price of the funeral and how burial life insurance functions.
Finding the different state's funeral insurance rules is therefore crucial if you want to get the most out of it.
The laws governing funeral insurance are lax in the state of Texas.
Does Your Residence State Affect Burial Insurance Rates
To be more specific, the state where you live affects the cost of your burial insurance.
But only a small number of policyholders in a few states are impacted. For instance, the premiums for burial insurance are impacted by the severe burial laws in Washington, California, and New York for policyholders.
The cost of burial insurance is the same in all other states.
The laws in various states that control what burial insurance plans may and cannot allow and cover are what raises the most concern about the rates for burial insurance.
In other states, just a certain quantity of coverage is offered.
Check out the breakdown of monthly premiums for burial insurance in several states;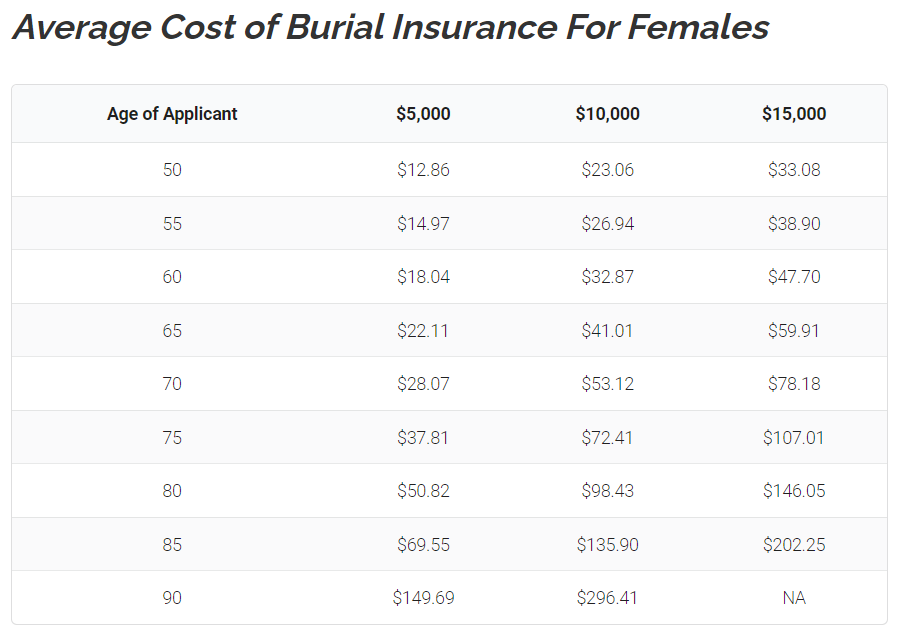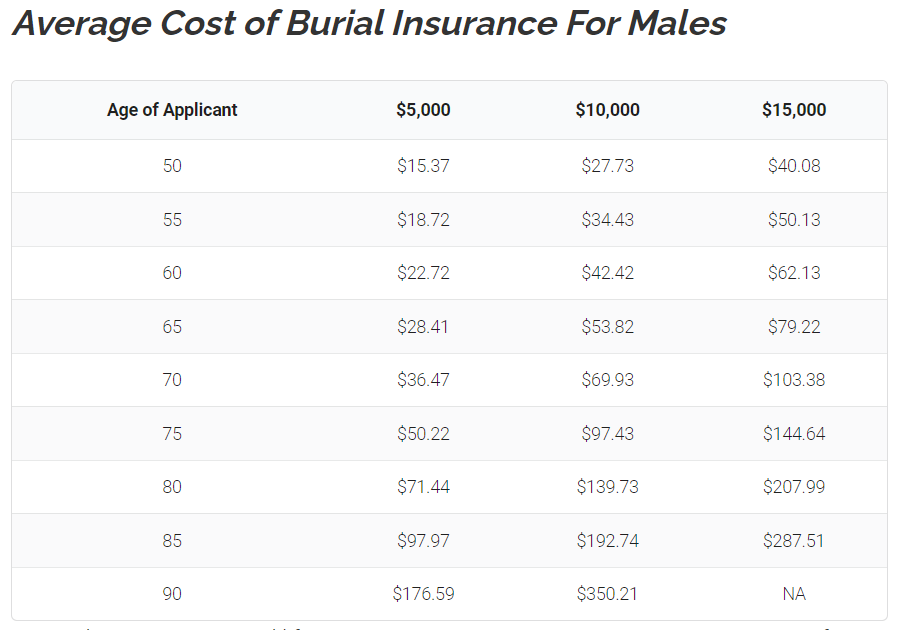 Average Cost of A Funeral In The United States
The table demonstrates that burial life insurance is a low-cost and wise investment for families to make in order to pay for funeral expenses.
You do not require a programme to pay more than the amount of coverage, unlike with other types of life insurance.
Burial life insurance is available in all states, depending on the state's specific burial regulations. In the event of a policyholder's passing, burial life insurance strives to meet the needs of the deceased's family.
Furthermore, the rates may alter for people with various medical issues. Death benefit policies are frequently categorised as burial life insurance policies.
How To Find Burial Life Insurance Laws of Different States
Is purchasing burial insurance worthwhile? Oh my God! Absolutely, it is!
How can I compare affordable funeral plans to market life insurance? No matter what state you reside in, knowing the regulations of burial life insurance will help you budget for your final expenses.
The information in this post can help you get your parents burial insurance even if they move from one state to another.
Also keep in mind that it is irrelevant if they have a pre-existing condition. We have agreements with the best A+ rated insurance providers who can provide you and your parent with fast, same-day coverage despite many health conditions!
Some of these health issues, such atrial fibrillation, high blood pressure, diabetes, etc., may surprise you.
In the modern world, comparing senior funeral plans can be scary. There are numerous products available in the funeral industry that cover funeral costs.
Not all products are good, but being aware of the rules in your area might help you avoid making poor financial funeral decisions.
In such a situation, it is advisable to retain the services of a local attorney to comprehend the implications.
A lawyer can also point out the benefits and drawbacks of your state's burial regulations for end-of-life planning and insurance policies and point you in the correct route.
Additionally, lawyers can be helpful because they are educated experts who are familiar with state laws and can advise you on how to make future plans for your family.
Custom HTML/CSS/JAVASCRIPT
What Does A General Burial Life Insurance Policy Cover
What is covered by a burial policy? Let's quickly review general burial life insurance policies before digging into the burial practises of various states.
It is a cash benefit that is paid out precisely upon the death of the insured. When an insurance policy is bought, it abides by its terms.
People buy funeral plans so that their relatives would be able to afford the final costs of a burial, funeral home, memorial ceremonies, and a cremation facility.
It's important to note that there are no restrictions on how that money can be used.
The beneficiary—the individual who receives the burial insurance benefit and is in charge of funeral arrangements—determines everything.
Some of the final charges a beneficiary may incur for the funeral's costs include the following:
The recipient must travel to another state if a loved one passes away there so they can handle funeral arrangements.
It may be necessary for a beneficiary to serve and feed the mourners.
Funeral costs, including the casket, services, and mortuary fees
To resolve the estate and property concerns, a beneficiary may require the assistance of a probate attorney.
The beneficiaries of burial life insurance plans receive a lump sum of money even when the policies' face values are minimal.
The beneficiary must deliver a copy of the decedent's death certificate in order to be granted those final costs. Furthermore, if the reason of death is unknown, it could take some time to issue a death certificate.
It is either a case of suicide or a legal issue.
Nevertheless, a lot of cemeteries would take a photocopy of the insurance policy guaranteeing your prepayment.
To check that the money is coming from the insurer, they frequently get in touch with the insurance company.
Does Burial Insurance Have Cash Value
Can a burial policy be cashed in? Your funeral insurance policy's cash value increases over time because it's a streamlined entire life policy.
These funeral insurance policies provide you with living benefits in addition to their cash worth.
This means that if you have a terminal illness, you can use the money from the insurance policy while you're still alive to assist with your medical costs.
Prepaid burial insurance purchased through your funeral home, on the other hand, does not include living benefits. A prepaid burial coverage does not let you to use this provision in the event of your death.
Burial insurance products offer you something truly priceless and offer you more value for your money. QUIETNESS OF MIND
Custom HTML/CSS/JAVASCRIPT
State Laws for Burial Life Insurance Plans
Do funeral homes sell burial insurance?
The majority of states need involvement from funeral directors, and the sector has created a burial life insurance product.
Funeral homes are permitted to sell the product in some states, including California and New York, without the need for qualified insurance professionals.
Technically, the Prepaid Burial Life Insurance Plan is referred to by this life insurance product.
What Is The New State Regulated Final Expense Insurance Program
Typically, it includes the information below;
Funeral homes offer a complete life insurance plan called Burial Life Insurance Plan.
Policyholders must choose funeral establishments or funeral directors as the product beneficiaries in some states.
Burial Life Insurance Plan has a portion for cash value. This means that many states let funeral homes to extract the annualised interest rate on the cash value.
These advantages are not available in all cemeteries.
As funeral costs double in ten years, burial life insurance plans are sold to lock in payments for ultimate expenses.
Not productive. If you move to a different state, the burial life insurance plan could not be compatible with the local burial regulations. For burial life insurance plans, several states have rigorous regulations, including New Jersey and New York.
Without a doubt, a burial life insurance plan successfully protects and prepares your family for the financial burden of funeral expenses.
It is crucial because, in contrast to other nations, funeral expenses in American culture continue to climb.
The beneficiary selection process is the best aspect of burial life insurance. The ability for your family to select how you use the insurance proceeds is most crucial.
Can You Have More Than One Burial Insurance Policy
You very certainly can, in fact. Many of our customers buy multiple policies for their parents, each with the maximum face value.
It's important to get your parents senior care final expense insurance. The knowledge that you won't have to worry about their financial obligations in the event of their passing provides your entire family peace of mind.
Therefore, the answer to the question "Is burial insurance worth it?" is "absolutely"!
Takeaway
Does funeral insurance pay off? YES! Briefly stated, burial life insurance policies provide a sizable number of death benefits to pay the cost of the funeral.
State-specific burial laws and regulations determine how it normally differs from state to state.
Numerous insurance providers provide coverage for funeral costs, however they could be subject to limitations because of state burial regulations.
for more details about elder laws.
Conclusion
Your funeral expenses, burial insurance policies, and pre-need arrangements will be impacted by the rules and regulations that determine how your state will treat you after your death.
To ensure that everything goes as planned at this trying time, get in touch with us right away to receive the assistance of a professional who can guide you through selecting a plan that is suitable for your present circumstances.
We'll offer all the necessary caregiving services for a small monthly cost, making sure that every last detail is handled with respect. Now get a quote!