2023 Average Funeral Cost For All 50 States
What is the breakdown of average funeral costs by state? Is it wise to get the least expensive funeral possible?
Most of the time, while purchasing, you want the least expensive funeral you can find. You should consider the costs of cremation vs. burial because funeral expenses are steadily growing.
What is the price of a burial? We'll discuss average funeral expenses by state.
Furthermore, it's crucial to have both life and burial insurance. However, do you not always seek out the least expensive funeral possible?
Funerals can be expensive and are a universal rite of passage. But how much does it cost where you live? Are you willing to shell out $10,000 or more for a funeral in your area?
Overall, it's more crucial than ever to get funeral insurance!
If not, continue reading to learn how much the typical funeral expense varies by state. This tutorial is for you if you are an adult kid who is wondering "how much is insurance for my parents."
This article will also reveal the most expensive state to pass away in as well as how these costs stack up against those in other states around the nation!
Depending on where you live, you will know how much final expense insurance you require.
Before we continue, keep in mind that life insurance includes funeral, burial, and final expense insurance.
They refer to it as depending on the specific life insurance company's marketing plan.
In general, these are merely whole life insurance policies with simpler issues.
How Much Does A Burial Cost
In spite of the fact that funerals aren't something you plan for, it's a good idea to know the cost in case of an emergency. The normal funeral expense is from $7,000 to $12,000.
This covers the viewing, the burial, the minimal service charge, etc. This would be covered by life insurance, so the family won't.
Funerals are still vital to our culture and society despite their exorbitant expense.
Instead of just cremating or discarding their loved ones like trash, many people prefer to give them a dignified memorial service that honours who they were in life.
Burial life insurance will work if you're thinking about getting it for my parents.
Additionally, it is crucial for family members to express their sorrow and acknowledge the death of a loved one rather than brushing it under the rug and pretending it never occurred because no one wants to live with such anguish that is never properly handled.
This transition will be smoother if you have life insurance, allowing you to grieve appropriately. In general, that is highly significant.
Cheapest Funeral Possible?
If you don't know your budget, it may be tough to want to pay for a funeral. Senior parents should pay particular attention to this. For this reason, senior burial insurance is an excellent approach to address this issue.
It may also seem impossible to pay for one, especially as the bill grows with each extra charge added by the cemetery or crematory where it will be performed.
These inconveniences will be avoided with burial life insurance.
Things may get extremely pricey very quickly if there was no preparation in advance and someone else had to step up in this situation.
Furthermore, because money accumulates so quickly, they would also struggle to keep track of all their payments. Once more, a life insurance coverage keeps these unplanned expenses from mounting.
Knowing the average cost of a burial and the price of each item is essential when planning a funeral since you can then decide whether some items are necessities or just good to have.
A burial life insurance coverage will also facilitate the choice.
Your funeral will be less expensive than you anticipated if you shop around! Additionally, getting life insurance will be even more beneficial.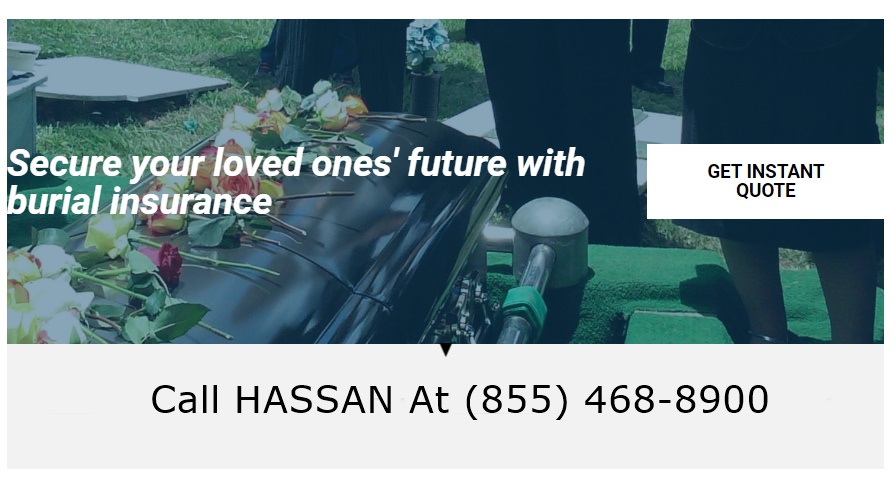 Average Funeral Cost By State
What Is The Cost Of A Funeral By State? Is purchasing a funeral insurance coverage a wise decision?
Financial planning in advance can help with affordability when the final expenditures become apparent, despite the fact that it is not a pleasant issue to discuss.
If you compare the average funeral expense in California to that in Florida or the average cremation expense in New York to that in Texas, you will observe a difference.
Burial life insurance is the greatest choice regardless of your location.
If your loved one wants to be cremated rather than buried or if you're interested in saving money just for funerals, these decisions come with additional costs that should be taken into account. This is covered under a policy for funeral insurance.
The typical funeral expense is from $7,000 to $9,000. Families also frequently overspend as a result of stress, inexperience, or lack of time. Look into services to see what you can afford!
You won't have to worry about money as much, though, if you have a burial life insurance policy.
The "Funeral Rule" was established by the Federal Trade Commission (FTC) in 1984 to protect your legal rights as a consumer.
This means that in addition to being aware of your funeral preferences, you should also be aware of any legislation that may exist to protect consumers in this area.
From the highest average final expense cost to the lowest, here are the funeral costs for each of the 50 states:


Funeral Cost Breakdown
Above all, it is obvious that where you reside will have an effect given the differences in typical funeral costs between California, Texas, and Mississippi, with Mississippi having the lowest average funeral cost.
It's crucial to realise that a final expense insurance coverage will cover these expenses wherever you reside. consider home health care.
If you need help figuring out how much life insurance coverage you need, feel free to use the pricing listed above as a final expense coverage calculator.
If you require burial insurance for your parents or grandparents, and they reside in a distant state, you must consider the implications of their location in order to get the appropriate burial life insurance.
Additionally, use this list of funeral costs as your final resource when purchasing burial life insurance.
How Can I Save Money On A Funeral
A family may overspend emotionally on funeral expenses for a variety of reasons.
These consist of:
The emotional impact of losing someone,
Time constraints
Lack of prior experience with funerals
Pressure from some funeral homes
Cemeteries prioritize profit over savings for families
In truth, most of us don't spend the time and effort necessary to negotiate a good bargain when it comes to our own deaths. This is why it's so crucial to discuss life insurance with your family in order to cover your final expenses.
We simply accept the type of burial that our neighbourhood mortuary or crematory offers—for an average cost of $10,000 in 2016.
Funeral Costs Breakdown
Do you believe that an expensive casket made of subpar materials, with a body preserved with harmful chemicals, will satisfy your family?
Would people feel comfortable paying for pricey vault interment into burial vaults loaded with concrete that weren't really built to support the caskets above them, but rather to protect them from grave robbers?
Can we not do a better job of affordably burial loved ones without sacrificing their dignity? It is dignified to obtain life insurance to pay for all of this in accordance with families' final desires.
Detailed Costs of Funerals
Unfortunately, it's challenging to reduce burial expenses. Funeral costs can be more expensive than other significant purchases we make.
To avoid leaving your family with a financial burden, purchasing funeral insurance is crucial.
However, there are ways for families to save the expense of funerals, such as by comparison shopping for goods they want and purchasing burial life insurance!
Overall, most individuals don't consider saving when making the purchases required when someone passes away, but being aware of all your options before making a choice will help you find what is affordable.
Remember that having a low-cost life insurance coverage eliminates the need to make financial sacrifices so you may concentrate on cherishing the memories of a family member.
7 Tips to Save Money on Funeral Costs

Grief comes with death, but funerals are also expensive.
It can be challenging to know where or how to start saving expenditures if you're the one left behind to handle your loved one's funeral arrangements without jeopardising their memory and dignity.
For this reason, it's crucial to cover your final expenses with a burial life insurance policy. It will be advisable to use this life insurance for my parents or parent.
Here are seven strategies to help you lessen some of those pressures.
How to save on Funeral Cost Breakdown
Tips for Saving Online comparison shoppingUsers can sign up to receive free, immediate quotations from funeral homes via email by visiting FuneralDecisions.com. Funeral Consumers Alliance offers suggestions for persons wishing to cut costs on their local funeral arrangements as well as a state-by-state database of groups that assist people in finding affordable funerals close by. If you choose to go local, you should also look at the funeral home's general price list. However, they won't offer you any advise regarding your life insurance coverage; for that, contact us.
Leave out the embalming stepYou can save a lot of money by having your loved one chilled for just $50 as opposed to having them embalmed for $700. Purchasing life insurance will take care of this.
Keep the gasketed coffin or casket.Some people are drawn to things because of how soothing they sound while they are grieving: a "protected" coffin, as an illustration. Even if the funeral home only pays $8 for these unique gaskets, the cost of a coffin could increase by as much as $800. While these aren't required because after death, natural decay and decomposition occur naturally without any problems. These expenses are covered by a straightforward life insurance policy. Always verify the costs at the funeral home as well.
If direct cremation is chosen, request the wood.There is no legal requirement that you buy an expensive coffin if you choose direct cremation without a viewing or other ceremony where the body is present. For your loved one's eternal repose, you have a choice of pressboard cardboard canvas or less expensive unfinished wood boxes. Cremation costs are covered by life insurance.
Purchase a coffin or urn offline or onlineWhy are funerals so pricey? The legislation stipulates that you must acquire a coffin or urn from an outside vendor if you intend to do so. Without needing to use your preferred funeral home, you can buy one on your own and save money in the process! You can help yourself with this by getting life insurance. Additionally, always check the funeral home's price list for current rates.Warehouse clubs are wonderful if you're looking for bargains. For example, Costco Wholesale is selling an 18-gauge steel casket online (shipping included) for $950 that is painted in "Neapolitan blue" with silver shading and has the inner head panel engraved with "In God's Care." A funeral parlour in Niles, Michigan offered adult brass urns with velvet pouches for sale on their website for the same price as a metal coffin with a comparable appearance, plus shipping was $90. Once more, all of these funeral home expenses are covered by a life insurance policy.
Home Funeral? Yes It Is DoneYou can fill out a death certificate, submit it, take care of the body at home, and transport it yourself to the site of ultimate rest. Prior to the early 20th century, when funeral services were more readily accessible, the majority of households followed this practise. To file a claim with your life insurance policy, you will want the claim form and death certificate.
Your body can be donated to a hospital.Even though donations usually happen right away after a person passes away, some medical schools plan memorial events for the family at a later time. Cremated remains are often returned to the family when the student's one- to two-year study is over. This alternative is quite limited, though, as only 20,000 gifts are accepted annually by medical institutions, whereas over 3 million people die each year. Therefore, getting a funeral insurance policy is a wise decision.
What does the average funeral cost include
If you know for sure that a burial is what you want, typical costs include:
Gravesite cost/Burial Plot
Price of coffin
Coffin/Vault Container
Hidden Service Fees
Transportation fees (make sure you review the mortuary transport price list)
All of this adds up very rapidly! Call several nearby funeral homes to compare costs so you may choose the most affordable option.
Additionally, planning ahead with a reasonable funeral insurance policy relieves stress at the worst possible situations.
Start your own personal checklist and professional checklists as you plan; this will allow you to express your preferences now rather than later, when it might add to an already stressful situation.
Please get in touch with us if you have any inquiries concerning funeral insurance coverage.
What Are My Funeral Rights
In order to stop funeral homes from forcing customers into purchasing goods and services they didn't need or desire, the FTC enacted the Funeral Rule in 1984.
Additionally, it was created to prevent customers from paying too much for goods they needed at the worst possible time.
Before making any payments, you have the right to purchase the things you want, receive an itemised summary of all services, and receive price information over the phone.
Choosing your own casket or urn and forgoing embalming prior to a burial are further options.
Here are some food for thought: make a will, write down your final intentions in it, and buy funeral insurance to spare your family the stress at the worst possible time.
Additionally, be careful to avoid advertisements that purport to be from the state-regulated funeral programme because they are lead producers.
What Is The Cheapest Way To Be Cremated
A National Funeral Directors Association survey found that cremation services can cost as little as $1,000 to $3,000 on the low end of the spectrum but as much as $6,000 or $8,000 depending on the items you choose. Insurance for funerals will cover this.
According to the 2020 NFDA Cremation & Burial Report, more than half of people will choose cremation in five years, and costs will likely increase as a result of this rising trend.
How Much Does A Typical Funeral Cost
Being prepared financially is crucial since burying a loved one is an emotionally charged occasion.
Therefore, the greatest thing you can do for your family is to purchase a life insurance policy to pay for the funeral expenses.
Before deciding what kind of services are best for you, contact various funeral homes and request quotations if you are unsure of the costs associated with each service or if they differ depending on the region of your country.
Funeral arrangements are difficult for anyone who have recently lost a loved one. They must make a tonne of decisions, which is challenging for them given how challenging the process can be at this time.
You can name a funeral home as the beneficiary of your funeral insurance coverage if you specify this in your will. It is everything handled in this manner.
Having the appropriate information about your loved one's final wishes in writing is the most crucial part of funeral planning. This is possible with a will and a life insurance policy.
Knowing that everything has been planned out and there are no shocks when they pass away will give you piece of mind.
How Much Does A Burial Cost
Even better, you can save money for it ahead of time to relieve the pressure on your family members all at once.
Alternatively, purchasing a coverage that will cover my parents' burial expenses. Speak to your parents about this.
According to the National Funeral Directors Association, the median cost of a funeral and burial is $9,135.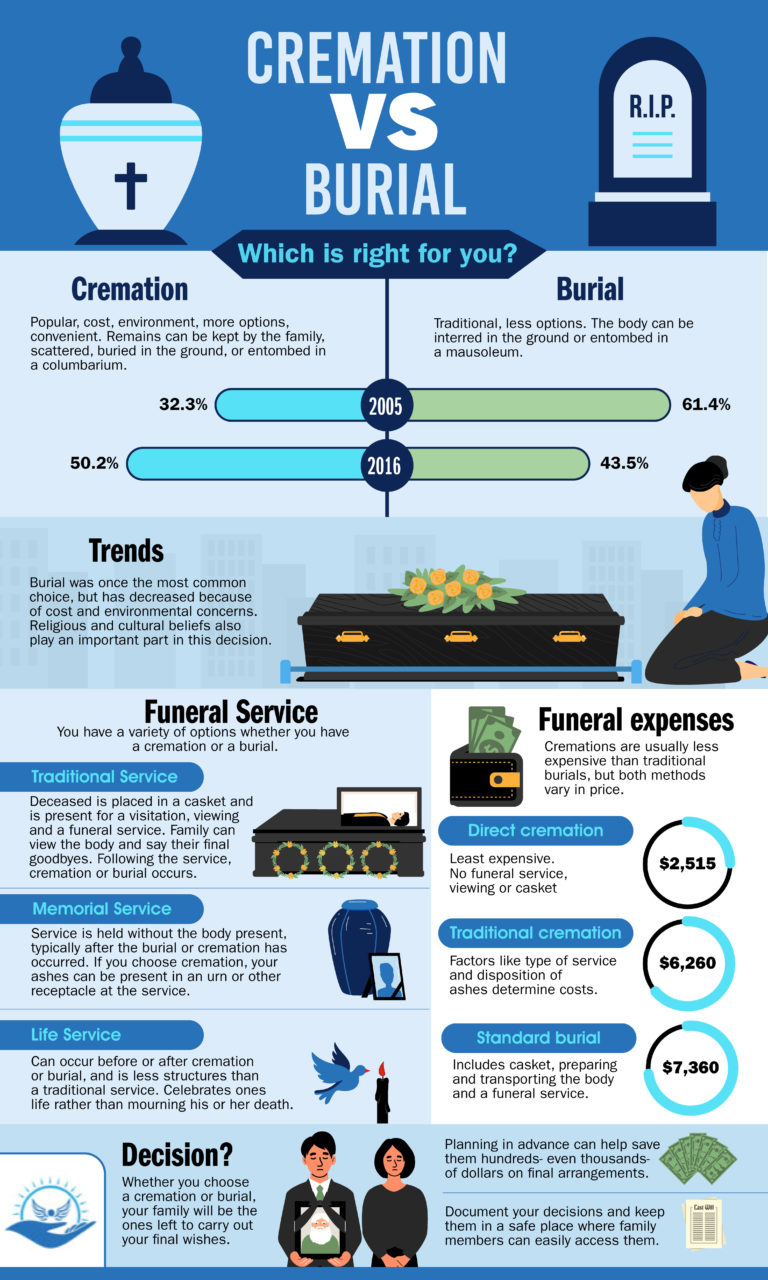 What Is The Breakdown Of Funeral Costs
The National Funeral Directors Association (NFDA) estimates that the median cost of a funeral in 2019 was $7,640, vault or no vault.
It was more expensive, costing roughly $9,135, including vaults, as a burial plot with a monument and flowers was not provided.
Obtaining a reasonably priced funeral insurance policy will reduce the monthly payment requirement.
You might need to factor in the price of a grave box or burial vault when estimating burial costs in order to protect the remains from soil and insect activity. All of this is included in your regular final expense.
Overall, keep in mind that cremation costs in Mississippi will vary from those in Las Vegas. A life insurance policy, however, can protect you in any country or state.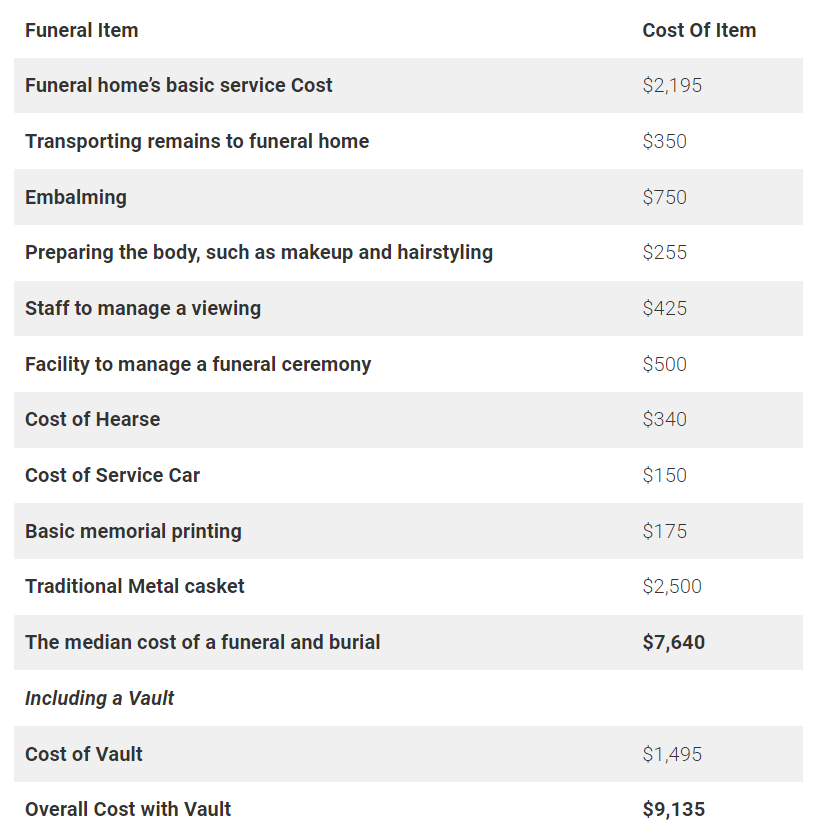 How Much Will The Funeral Home Charge
Usually, basic procedures cost between $2,000 and $2500. Caskets, for example, are optional extras that must be ordered individually and are not included in this pricing.
It's crucial to be aware of your alternatives while selecting a funeral home. You can get a range of rates for the services offered in your area by contacting multiple funeral homes.
By law, funeral homes must provide over-the-phone general pricing information for any service that piques your interest. As a result, be sure to be prepared at all costs.
To pay for all of these funeral home expenses, you can buy a burial life insurance policy. Most policies offer between $2,000 and $50,000 in life insurance coverage.
If you're getting life insurance for my parents, this is ideal.
Is It Better To Get Buried Or Cremated (You Decide)
For as little as $1,000, you can choose cremation. Depending on the state, it might cost up to $8,000 if you also want a ceremony and embalming.
Burial might cost up to $9000 depending on the minor items selected.
Caskets cost several thousand dollars, but depending on the material used, headstones and grave liners can cost thousands more.
This last cost will be covered by life insurance.
How Much Does Embalming Cost? Is Embalming Necessary?
Several considerations are taken into consideration while estimating the cost of embalming. One is whether you are buried or cremated, as well as the interval between your passing and the start of a service.
Depending on the conditions, embalming costs an average of $500–700, but it can be as little as $400–450 if the body is left without refrigeration for up to 10 days prior to burial.
Of course, this will cost an additional $100 on top of the previously specified average price range.
Should I Purchase Flowers Or A Funeral Wreath
Flowers are frequently a simple method for families to reduce the expense of funerals. But when you factor in extra costs from the florist or funeral home, they may get pricey. Therefore, purchasing burial insurance can pay for this.
If only a few hundred dollars are spent on flowers per individual as opposed to thousands of people receiving them simultaneously as part of package arrangements with the church and funeral home, flowers can also be out of your family's price range.
Flowers typically cost between $500 and $700. This price excludes any discounts provided by nearby florists or churches, which, depending on where you live in relation to these establishments in your neighbourhood, might cut overall spending by roughly half that amount.
Although there are some savings with this choice, most families have found it to be more expensive. This last cost will be covered by life insurance.
Depending on the florist, the flowers used, and the size of the display, a decent-sized "over the casket wreath" will cost between $500 and $700.
Usually, wreaths are placed around the coffin and range in price from $100 to $200 per. Casket wreaths are exhibited across the actual caskets and range in price depending on their size and the florist you select.
Getting my parents' life insurance quotes can prevent a lot of future hassles. Please talk to them about this.
What Is The Average Cost Of A Funeral Plot
Costs for cemetery plots range from $350 to $5,000. The grave itself costs a lot of money, but it also costs an extra $1k to $3k to open and close it.
Ask the Veteran's Administration (VA) about burial allowances if you are a veteran or have lost a veteran.
By doing this, you might save up to $3000 on a national cemetery burial. As a result, purchasing life insurance to pay for final expenses would be less expensive.
Any living spouse, child, or parent of a veteran who received an honourable discharge is entitled to reimbursement for transportation expenses. Additionally, it covers their burial plot in a licenced cemetery, which may cost considerably less than conventional plots.
You should be aware that families pay extra fees like floral obituary notices while family members pay for their own transportation.
Don't forget to inquire about the cemetery maintenance cost when buying a gravesite. You can use this to manage your budget for when it's time to make a payment!
A life insurance policy will pay for all of these funeral home expenses.
How Much Should A Grave Marker Cost
Some headstones cost about $1,000 and are level on the ground. Cemetery markers typically cost between $2,500 and $5,000 and stand upright on top of a grave.
The price of each material greatly varies depending on the type you purchase; for instance, stone is less expensive than bronze.
Since most funeral establishments sell them, the headstone or burial marker you decide to buy may be heavily influenced by where in the cemetery your body is interred.
However, there is also the choice of shopping at independent merchants, which might save you hundreds of dollars.
Are Coffins Cheaper Than Caskets
The casket is frequently the most expensive item on your list for traditional funerals.
Caskets come in a broad range of styles and designs, from metal to more economical woods that may be purchased for as low as $5,000 or as much as $10,000!
It's crucial to keep in mind that you don't have to purchase any funeral accessories from the funeral home.
More and more consumers are choosing to have caskets shipped straight from third-party merchants like Amazon or Walmart rather than buying them at storefronts within genuine funeral facilities, which not only can help save thousands of dollars.
These services cannot refuse service because your coffin didn't pass through their store or warehouse; they are required by law to accept your coffin without imposing additional expenses.
How Much Do You Pay For Funeral Insurance
The NFDA estimates that the average funeral can cost up to $9,100. Depending on how they are carried out, cremation services itself may be expensive.
Unfortunately, only those who meet the requirements are given a one-time payment from the federal government for these expenses, which amounts to about $255.
Consider purchasing final expense insurance if you're worried that your passing would place a financial strain on your family.
Final expense insurance, also referred to as burial or funeral insurance, was created expressly to assist with the costs associated with funeral homes and other post-mortem expenses like caskets.
What Type Of Insurance Covers Funeral Costs
One of the most effective and reliable ways to pay for final expenses is through life insurance. Whole life insurance in particular is beneficial because it might assist in defraying any funeral expenses.
Final expenditure insurance is a popular choice among people who want to save their loved ones from having to deal with financial hardships after their passing.
Because "each family is unique" and has different concerns for their departed loved one, BestBurialPolicy.com is the industry leader in understanding this, which is particularly popular with seniors (s).
Should I Prepay My Funeral Expenses
As funeral costs continue to grow, more and more people are opting to pay for their own funerals, both to make sure their last wishes are carried out in the event of their passing and to spare their loved ones the financial strain.
One strategy is to plan ahead. But we strongly advise against it.
A final expense insurance policy, often known as burial insurance or funeral insurance, is the greatest approach to accumulate funds for funeral and burial costs.
The death benefit, which is typically between $10,000 and $25,000, is paid out in order to cover funeral costs and other end-of-life expenses, as well as any other expenses that family members may incur, such as travel expenses or unpaid medical bills.
Burial Assistance For The Uninsured
Assistance With Burial For The Uninsured Families who are grieving could be tempted to spend too much on funerals, which they frequently come to regret.
However, this doesn't mean we should completely cut back on our expenditures; there is a method to do so without sacrificing respect for the deceased. Having pre-arranged funeral packages is a cost-effective solution that will guarantee all demands are covered while bringing comfort to those left behind.
It's crucial to have support during the planning phase if you're wanting to arrange the funeral services for a loved one.
When assistance is required, groups like the National Funeral Directors Association and the Funeral Consumers Alliance are available.
Don't feel compelled to pay more than your budget permits; keep in mind that family members may not always be aware of the costs involved with funerals owing to customs or traditions.
Write down the funeral-related details that are most important to you in advance to avoid overspending on burial insurance or if you want to spare your loved ones the financial strain of paying for a burial.
This includes where the service should take place and whether they favour cremation over a conventional viewing (at a church or cemetery).
If I Can't Afford a Funeral What Do I Do
Without preserving the body or allowing for visitation, a direct burial is the least expensive choice for families.
Traditional funerals cost many thousand dollars more than direct cremation, which needs no post-mortem preparation and entails the deceased's remains being collected by an authorised representative of the funeral home (typically within hours of death).
Custom HTML/CSS/JAVASCRIPT
Are Military Funerals Free
Military Funerals Are Veterans of the Free Military are qualified for a number of benefits once they have passed away. These include free grave markers, burial plots, and tombstones for the remaining family members, as well as free interment at national cemeteries.
Prior to organising a funeral for a service member, it is crucial to phone your local VA office. They can provide you with a complete list of the savings, advantages, and funeral plans that are accessible to veterans.
What Questions Should I Ask The Funeral Director
When making plans, it's crucial to find out if a funeral home is autonomous or a division of a larger organisation.
According to a research by the Consumer Federation of America and the Funeral Consumers Alliance, SCI-owned funeral facilities had median costs that were from 47 to 72 percent more than those of independent establishments.
Other crucial inquiries to put to the funeral director include:
Do you participate in groups or associations?
Are services provided internally or through vendors?
Which funeral packages do you provide?
Do I have choices on the sort of funeral or memorial service, viewing, cremation, or embalming?
Are my choices constrained by my own convictions?
What choices do I have for paying?
Can I have the funeral service customised?
What are the essential costs, and what other costs should I anticipate?
Do you collaborate with insurance providers?
What Funeral Expenses are Tax Deductible
Although knowing that you're not alone in questioning whether funeral expenses are tax deductible may be consoling. Unfortunately, most people will not be eligible for a deduction, per IRS regulations.
However, some deductions might be available if your estate qualifies; however, see your accountant first!
Conclusion
Funerals can be among the most expensive expenses a family must budget for, and it can be difficult to predict what your final costs will be.
Make sure to avoid Colonial Penn and State Farm items because they are pricey.
We gathered information on funeral service costs from all 50 states in an effort to make that process simpler.
In this manner, the question "What is the typical cost of a funeral?" can be answered. You know the solution!
Please email us at BestBurialPolicy.com or use the quote form on the right to let us know what details we missed.